7 – INSPIRATION
Although the dynamics of the popular song's creation process is based more on its instantaneous character than on a detailed elaboration, this general conduct is fertilely subverted by song composers who refer to the most varied processes of musical creation.
P.C. PINHEIRO
00:00 P.C. Pinheiro's creation process
01:22 "I always exercise myself"
02:13 at some moment…
I sit down, give an in-depth listening to the music,
and at a certain moment it happens:
A word, a phrase comes, and it tells me:
"That's the way you've got to take", and there I go.
That means that I am a music's servant, slave, captive –
whatever it tells me to do, I do.
That's how I work.
That's not an idea of mine that I place on that music –
the music is the one to tell me the idea it wants
— that is my work process.
The orientation I was given by José Miguel Wisnik in the qualification board [i], which has contributed to the conception of this project, has pointed towards interviews that would investigate the meanders of the creation-performance act of each artist interviewed.
WISNIK
To carry out the interviews, I consider fundamental
that the relation of the artist with the instrument be registered.
That everything that is said, the artist should show.
If you do that, you'll have statements that have never been made before.
For example, the way Luiz Tatit composes –
in which way he relates with the instrument
and can extract elements that have intoning potential.
And so on and so forth for each one, go for what each artist is like.
In the case of Luiz Tatit, the intonation;
concerning the others, you will certainly find some other motivating question
that is pursued by that artist.
This objective, spelt out like that, led us into giving priority to the "personal" aspect as one of the "motivating questions" of the research itself. Such question finds clear reverberation in part of João Bosco's statement – transcribed below – that reveals the idea of "intuitive secret" as a determining factor for a process that results in compositions bearing unique characteristics.
JOÃO BOSCO
00:00 we never know it for sure
But when the point is something unique, personal,
there is always a reference that is an intuitive secret that each one of us has.
I don't know exactly how it points to that reference that is going to produce a musical path.
That's a process that is out of my depth to translate.
But it exists,
and various situations forge this moment.
I talk about mine, since I also have one.
Sometimes, it happens suddenly, out of the blue,
Sometimes, it comes at a slow pace, and you start feeling different,
and feels that something is happening.
you never know it for sure.
01:16 taking aim
I'd rather think that we should always be taking aim,
because you don't know what time it'll be over.
While these things aren't defined, you keep on developing…
the technique to play,
the way to sing.
you're getting ready for the moment, and you don't know when,
neither how,
not even what kind of thing is gonna happen.
But you must be ready.
In the sphere of music composition for concert guitar, Sérgio Assad – who also teaches – does not stand too far from this same reference when conducting the formation years of his pupils.
ASSAD
00:00 you can't teach composition
I think that composition can't be taught.
Nobody can ever teach a person to compose — that doesn't exist.
What you can do is provide a person with tools to use with what this person already does.
The paradigm of an action based on personal solutions for an "invention" of what would come to be Brasil is Heitor Villa-Lobos.[i] His music is "the incubator for a large part of elements that are identified as national in the Brazilian musical language, whether it be erudite or popular" (JARDIM, 2005, p.23). thus the composer, much due to his special talent as melodist, establishes a field of intersection inside the Brazilian music that feeds on the transit – a two-lane course – between the popular and the erudite music.
VILLA-LOBOS
Most interesting in these choros ('Choros nº5 – Alma brasileira'),
are the irregular rhythmic and melodious cadences placed in square compass
which provides a disguised impression of "rubato",
or of a slackening melodic execution,
which is exactly the most interesting characteristic of the seresteiros (serenaders). [i]
The Brazilian musician inherits the challenge to creatively and noncommitedly handle expressions from the musical universes that compound the "extensive diversity" mentioned by Wisnik [i] and it should be added that exceeds, haunts, lights up. Mapping the seven interviews – which constitute our seven chapters – is the result of the effort to establish as many articulations as possible in the universe where I act and in the nature of this study.
P.C. PINHEIRO
 00:00 without a formula
Then creating,
inventing,
composing
has no formula,
— that turns around one's head in so many different ways
that is very hard to explain it. [i] […]
 00:19 Triologia do Alumbramento (João Nogueira/P. C.Pinheiro)[i]
"Súplica"
"Poder da criação"
"Minha missão"
02:43 It's important that our emotion survive
I don't know if I could explain…
I think so.
SARAIVA
The least you've stirred people's emotions
which is much more important than being able to explain.
P.C. PINHEIRO
It's my motto
that unknowingly you've just reminded me of
"it's most important that our emotion survive" [i]
above all.
That's why we're here.
PODER DA CRIAÇÃO
João Nogueira / Paulo Cesar Pinheiro
Não, ninguém faz samba só porque prefere (No, nobody makes a samba just on preference)
Força nenhuma no mundo interfere (No force in the world interferes)
Sobre o poder da criação (with the power of creation)
Não, não precisa se estar nem feliz nem aflito (No need to be happy or anxious)
Nem se refugiar em lugar mais bonito (not even to take refuge in a prettier place)
Em busca da inspiração (in search of inspiration)
Não, ela é uma luz que chega de repente (No, it's not a light that suddenly comes)
Com a rapidez de uma estrela cadente (as fast as a falling star)
Que acende a mente e o coração (that ignites mind and heart)
É faz pensar que existe uma força maior que nos guia (It makes us think that there is some greater force that guides us)
Que está no ar (that is in the air)
Bem no meio da noite ou no claro do dia (in the midst of night or in broad daylight)
Chega a nos angustiar (It can even distress us)
E o poeta se deixa levar por essa magia (and the poet lets the self be carried away by this magic)
E o verso vem vindo e vem vindo uma melodia (and the verse starts coming and the melody starts coming)
E o povo começa a cantar, lá laia laia (And people start singing, lá laia laia )
Lá lá laía laiá (Lá lá laíla laíla )
I finalize the interviews playing Costa da Lagoa, a theme I composed on the border of Costa da Lagoa da Conceição, at a glorious daybreak.
 00:00  Costa da Lagoa – Chico Saraiva por Duo Saraiva-Murray  (production Paulo Bellinati)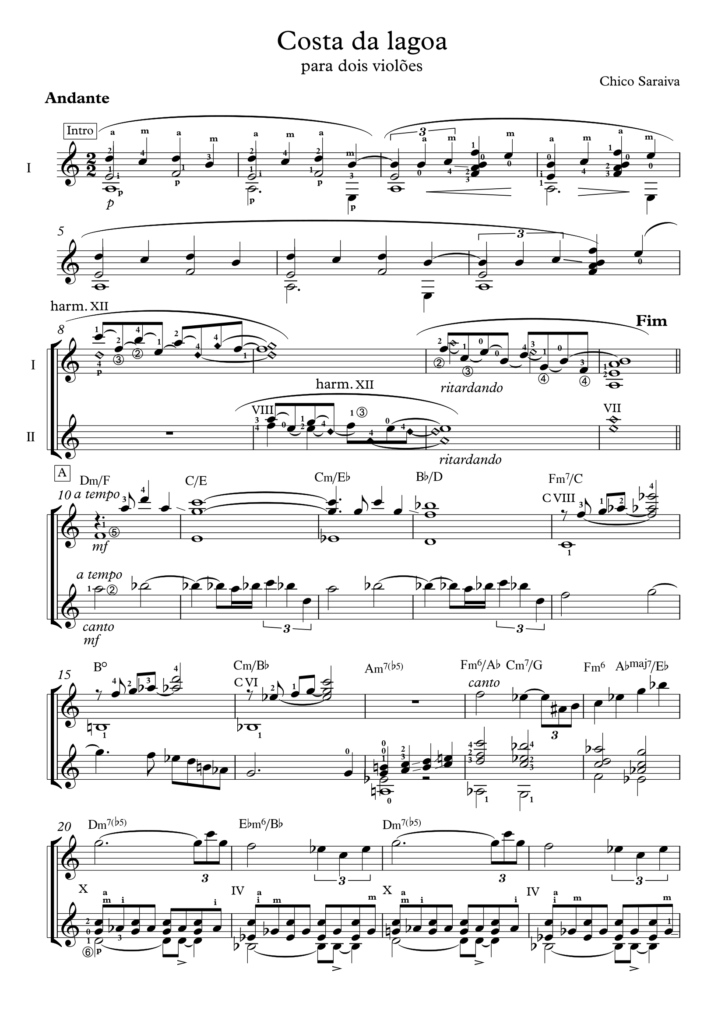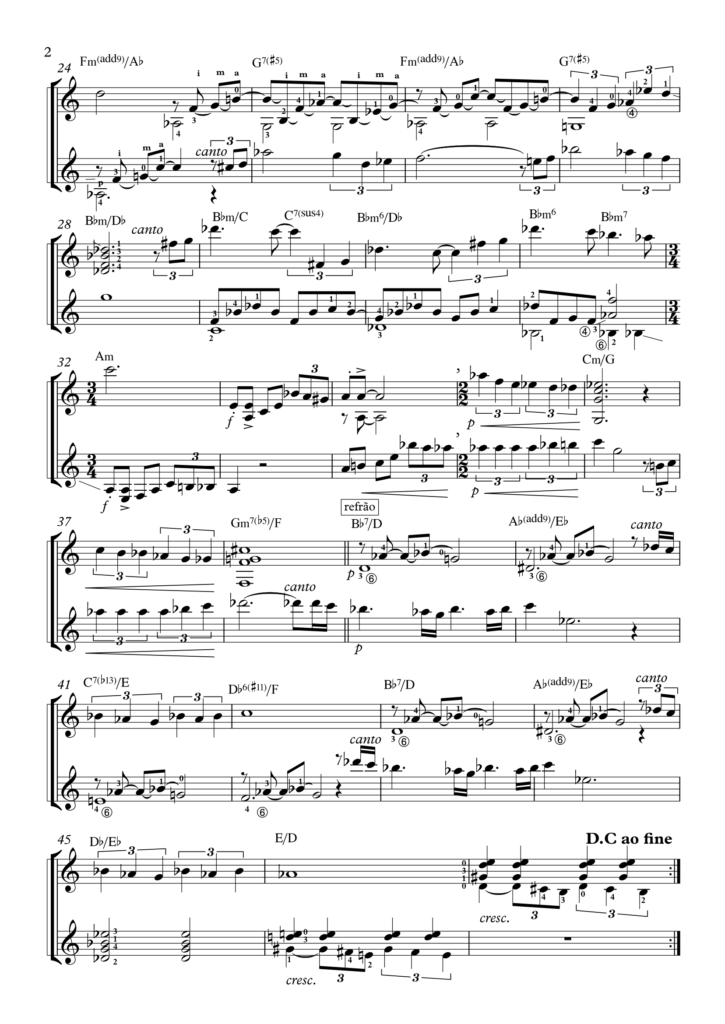 Qualification board on Oct 5, 2012 – composed of Gil Jardim (thesis advisor), José Miguel Wisnik and Ivan Villela.

LINK with the idea "when I was going to invent Brazil, it was already invented, but Villa-Lobos had to invent Brazil" – statement by Tom Jobim in an interview in the Roda Viva program – TV Cultura – recorded on Dec 20, 1993. Available at < www.rodaviva.fapesp.br/materia_busca/260/tom%20jobim/entrevistados/tom_jobim_1993.htm > access on Nov 21, 2013.

Statement by Villa-Lobos presented during lecture by Hermínio Bello de Carvalho at MEC on Nov 6, 1970.

Quotation that is not in this excerpt, but it can be found in the book based on this dissertation.

This part finalizes chapter – 3.3 – song without the guitar – a moment just previous to this one in the interview with P. C. Pinheiro.

LINK with vídeo presenting Paulo César Pinheiro and João Nogueira playing Triologia do alumbramento.

Stanza of Mordaça, by Eduardo Gudin and P.C. Pinheiro.