5.2 – a question for Brouwer – with Sérgio Assad
SARAIVA
00:00 Leo Brouwer's master classes
In 2010, I watched Leo Brouwer conduct musical interpretation "master classes"
in the bienal festival that USP has been promoting in São Paulo.
On that occasion I realized something about which I would like to discuss with you.
Brouwer's music has a strong bond with the traditional Cuban popular music,
in which the rhythmic aspect has a leading role. [i]
However, I watched Brouwer work on one of his compositions with different students,
and at no moment at all did the work contemplate, for example, "tempo" "stability". [i]
00:50 spontaneity in oral tradition
01:48 execution of part of the piece
The composition in question is Balada de la donzela enamorada, last movement of El decamerón negro. It is a piece inspired in the homonymous book by Leo Frobenius (1873-1938) that presents a collection of stories gathered by the German anthropologist from the "Griots", emblematic figures for the dynamics of oral transmission in the condition of holders of the ancestral knowledge of the traditional African culture.
SARAIVA
The piece starts with a structure that can be felt as a pulse game.
[the mentioned part is presented on the guitar]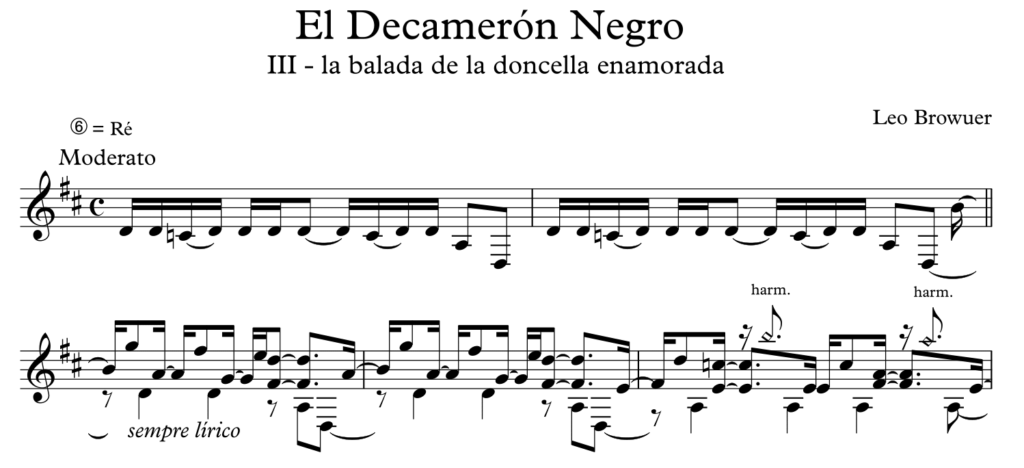 SARAIVA
02:15 polyrhythm
[in the sequence I just mark the pulse
while I vocally articulate the rhythmic inflections of bars 3 and 4]

ASSAD
It's because we tend to always hear the low bass note as "down beat".
There are students of mine who play it feeling the down beat – not like you did, but the reverse. And when you want them to understand it and stomp the foot, they cannot.
SARAIVA
Watching the Cuban master again and again was one of the factors that brought me back to the university. However, from those "master classes" remained a doubt: why wouldn't Leo Brouwer ever stomp the foot?
And I had the pleasure to attend your "master class" recently at USP and see you do that. Leaning with your students over the task of acquiring fundamental aspects for the music that mobilizes elements of rhythmic nature. [i]
That moves the body somehow…
ASSAD
Yeah, it is different.
03:46 poliphony
SARAIVA
And essential for composition. On the other hand, this piece also presents the following height game, polyphonic
[I play the same bars 3 and 4 using another focus]

04:36 the question for Leo Brouwer
04:54 what I grasped from his answer
ASSAD
05:36 most of the people who play this piece don't understand this rhythm process
06:03 Cuban "idiom" — distant from the conservatory ambiance
07:05 just as in my music bearing the Brazilian rhythm process
07:28 there are a lot of people who play what I did, but…
08:14 it is getting better: youtube
LINK wih the idea "that rhythmic something of Leo Brouwer" presented in – 5.3 – is it yours? in the statement of Guinga.

LINK wih the idea "only when the pulsation gets clear do you understand the syncope" presented in 2.2 – rhythmic matrices – in the statement of Marco Pereira.

Roland Dyens (1955 – 2016) – former professor at the Conservatoire National Supérieur de Musique de Paris – plays that way, as it is on the video of one of his master classes (specially on 07m15s)